Frequent gusty storms, with names such as 'Ciara' and 'Dennis', hampered work across all our gardens. February was a particularly sodden affair, like an overused shammy cloth wrung out. However, there are still offbeat tales to tell, beginning with a scene from one of Shakespeare's most popular plays.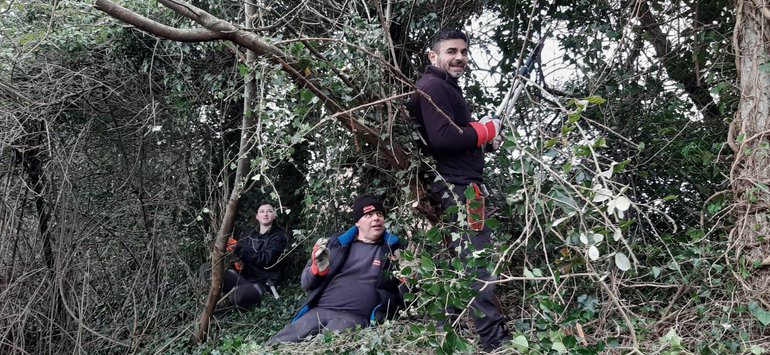 I know a bank where the wild thyme does not blow, where oxlips and the nodding violet are decidedly absent. The bank I know of is consumed with a litter strewn undergrowth that is dark and gothic in nature - ivy scrambles over old vinyl records tossed aside from years' past; over shreds of black bin-bags; over stubby trees. It winds around whippy shoots and slashes itself upon their vicious thorns. There are spines on this bank that can rip apart clothing as easily as the Incredible Hulk. In short, it is a neglected bank like any other that resides on the fringes of an industrial estate. This particular bank sits behind the Shakespeare Birthplace Trust retail warehouse. 
Our gardening team, both from town and country, were employed to remove its covering of inhospitable vegetation. Despite an unassuming backdrop and skies the colour of the innards of an overused Tupperware box, one of our team captured and sealed a magical moment in time - an unwitting, and hugely loosely-based, interpretation of a scene from a Midsummer Night's Dream (it will help to suspend your disbelief whilst examining the photograph above). 
The Players: gardeners, one and all
Alice – Puck; Robin Goodfellow (left; crouching at the back of the photograph with a sprightly, mischievous, grin)
Steve – Nick Bottom, a weaver (middle; gazing upwards at Oberon with what appears to be reverence)
George – Oberon, King of the Fairies (right; wielding loppers and obviously planning something dastardly)
Shakespeare's Birthplace
Work on rejuvenating 'The Shakespeare Borders' continued on a rare dry, and bright, winter's day, not long before 'Ciara' and 'Dennis' arrived, two wet and windy tempests that clattered over the British Isles within the space of a week. Our task was to plant a row of bare-rooted holly plants in the hope that they will eventually knit together and form a mature hedge to complement the holly hedge that sits across the Birthplace's main pathway, edging the border opposite. 

Waterproofs were strangely absent, hanging off the back of doors, or stuffed deep in rucksacks, and after digging out the first trench for planting we even found it necessary to remove layers of thermal clothing. Shortly after lunch all the bare-rooted hollies were firmly planted. Dotted between them at intervals we also planted five potted-hollies, which eventually will grow to be standard trees. As seen on the left in the photograph below, this group of five will be encouraged to have delusions of grandeur, elevating themselves above the main hedge and their bare-rooted cousins.
Shakespeare's New Place
During the yuletide festivities of 2019 an evening event was held at Shakespeare's New Place named 'The Festival of Lost and Found', a mystery that involved an unravelling of two and a half centuries of stories. A midwinter encampment was soon created, with tents, bunting, and a string of lights that thread through the apple-arbour over the yew hedge and through to the Great Garden.
The event was well attended, but each evening, as was often the case this winter, the rain fell. After the event had ended the lawn appeared miserable, trampled upon, and mud-smeared. To revive its fortunes we employed our new addition to the team, an aeration spiker. Two journeys were made across the lawn, in opposite directions; the spikes of the aerator pulling and kicking small cylindrical lumps of mud over the span of the grass, pock- marking its surface, making it appear in an even worse state. However, the holes left behind allowed air, much needed oxygen, to the stagnating roots of the grass. A feed to nourish roots was then applied to the lawn.
We roped off the grass from further footfall and a month later it had markedly improved, although the constant and often severe downpours do not help matters. There are patches of moss, an indicator of wet and compacted ground. This picture, taken on February 5 2020, belies the present state of the grass. As of March 12, it remains roped off.

In the gardening world a combination of hope, the crossing of fingers, and a swift tot of something warming, usually injected with alcohol, is often used in an attempt to lessen the impact of problems that nature may inflict upon us and now that we are facing a changing climate they seem to occur more often. This 'hope' combined with our addled thoughts, nevertheless, is all too often replaced with feelings of sober disappointment, ranging from mild to severe, combined with a determination to try again. 
A small battle that we are annually forced to engage in involves the grey 'pilfering' squirrel; every year it uproots planted bulbs and our 'hopes' for a majestic spring display. Each year we research ways to deter them. This year we plumped on scattering gravel across the top of the bulbs in their individual planting holes. Maybe it would irritate the squirrels' claws and deter them from a life of crime? Though many of the bulbs still remained buried, quite a few were stolen to be stored in cracks and crevices only known to the squirrel.  Bulb-less holes appeared overnight, pockmarking the borders. Gravel was scattered every which way; like shards of broken glass on the pavement outside a jewellery shop it was the first piece of evidence that alerted us to a smash and grab raid. The squirrels were not deterred by the gravel, they just scraped it away. Next year we may have to resort to using more elaborate means, perhaps a network of subterranean squirrel-traps, a panoply of trapdoors and pulleys that will discourage even the most determined squirrel.
Hall's Croft
John Hall (c.1575 -1635) married Susanna Shakespeare in 1607. He ran a medical practice in Stratford-upon-Avon and made copious notes, composed in Latin, regarding the care of his patients. Readers have never before had access to Hall's complete medical notes in English. 
Until now. Manchester University Press, in association with the Shakespeare Birthplace Trust, have published the first ever complete translation of John Hall Master Of Physicke, a medical casebook of 178 treatments spanning over twenty years. This ground-breaking work by the late Dr Greg Wells (1947-2017), is edited and presented by his friend Paul Edmondson, head of research and knowledge at the Shakespeare Birthplace Trust.
Many of the remedies Hall prescribed were herbal. Some of their ingredients, such as senna and rhubarb, are still in medical use today. 
Hall used both in a purge for a curious case of astonishing worms. "Case 77: Richard Wilmore of Norton, aged 14: vomited black worms about one and a half inches long, with sixteen legs and small red heads. When he vomited they were almost dead, but revived after a short time had passed".
The first ousting of Wilmore's worms were expelled with mercurius vitae (antimony oxychloride, a compound that functions both as an emetic and a laxative, known since the 15th century and originally used as a purgative).
Hall continues: "The day after they were brought up his father brought them to me wrapped in paper. They crawled slowly as if with earwig feet, but not the same colour as earwigs". 
If you are curious as to whether or not Hall prescribed a remedy that cured this slightly gruesome ailment the answer is on page 147, and the book can be obtained through our online shop. 

In the present day garden, where Hall would have grown and cared for herbal plants, there are appearing small seedlings of broad beans and an onion named 'Shakespeare'. Alice, aka Puck, the Senior Gardener at Hall's Croft, nimbly circumnavigates her steel-toe capped boots around these newcomers and harvests purple sprouting broccoli for the cafe. In the glasshouse at New Place tomatoes, cabbages, cauliflower, and Hungarian rice beans are revealing their first leaves, sometimes referred to as seed-leaves because they are part of the seed or embryo of the plant, carrying the stored food reserves of the seed – mobile pantries if you like.
Finally after a winter of downpours our thoughts are turning to spring — that time of feverish manufacturing, from the bud-to-the-flower-to-the-seed. 

To that first cold G&T- or pint- in the sunshine. 

Talking of happy thoughts Lorna, a WRAGS (Work and Retrain as a Gardener Scheme) student has recently joined us, spending each Wednesday and Thursday with the country gardening team. I have never come across anybody who has found so much amusement from the pages of a garden periodical.

At break time, in between pruning apple trees, whilst flipping through a magazine, she suddenly broke into giggles.

Why?
She showed us the title of the article she had been reading: 'How to Chit Potatoes' and once again broke down laughing.
'How do you pronounce that?' she laughed, folding over the page and pointing to the word 'chit'.
A few minutes later she again broke down laughing. This time it was over a well-known gardening personality's article. She did not reveal why she found it so amusing, eventually sucking in a breath of air and muttering: 'I'll have to read that one at home.'
A ray of hope.
Spring is definitely coming.