And then there were days that belonged to a monsoon season. Roads imitated streams with slow-moving traffic sending lapping water over kerb edges – I was so concerned by the 'river' that slopped over the road verges outside my window that I placed items of any value on a higher level...
Meanwhile, in the town gardens –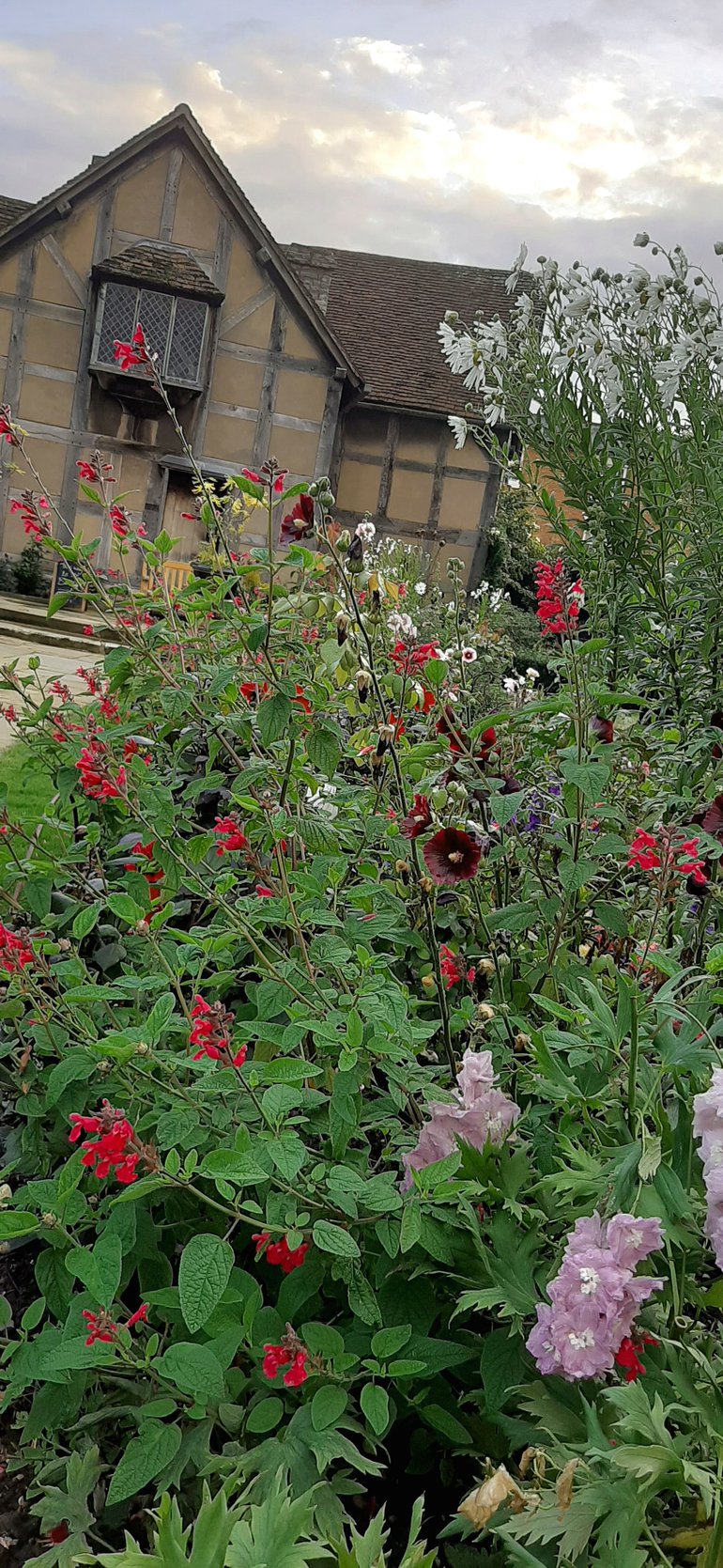 Shakespeare's Birthplace
The renovation of the two main borders moved along at a quick pace – at least from the perspective of a gardener; time often appears to stall, slide backwards, or move in the tiniest of increments in our working environment. The crows' feet around our eyes spread quicker than the plans for our gardens, weather often a mitigating factor and plants taking years to establish. Having said that both borders are now planted and positively blooming. The next phase is to reintroduce a holly-hedge along the main border nearest to the Shakespeare Centre. This will mirror the holly-hedge edging the other border, and provide a screen, or the effect of a garden 'room', where vegetative surprises can be introduced around every corner. Fingers-crossed.
A visitor once gazed at the five standard holly trees growing up and out of the hedge every few metres or so and then asked the Birthplace gardener, in all seriousness:
'Do they represent the band The Beatles, is the last one Ringo Starr?'
A truly unfathomable, yet lovely and innocent question that was soon gently refuted by the respective gardener. Now every time I look at them Ringo blares out 'Yellow Submarine' in my head. Not such a bad thing.  
The hot borders planted in spring 2017 looked particularly vibrant, if not a little exotic with the addition of a number of tender plants: dahlias, cannas, Ensete 'Maurelii' (Red Abyssinian Banana), Nicotiana alata 'Crimson Bedder' (Tobacco Plant), and Cosmos atrosanguineus (Chocolate Cosmos).
The border may transport you to settings abroad, hot and sultry, full of passion.
Shakespeare set three quarters of his plays outside of the UK – with a geographic spread north to south from Denmark to Lybia and west to east from Spain to Syria. Italy was used as a backdrop (at least in part) to 14 of his 37 plays. In Shakespeare's time Italy had a reputation for violence and passion – a play set there would be sure to pull in the punters. 

The action would be extremely violent; the emotions, extreme. A riot of colour – 

New Place
In the knot garden the backbone of our four knots, the hedges, have in the past taken on the appearance of a rag-tag bunch, their stuffing tumbling out of weather-worn seams. They have now been replanted, including the dwarf variety of Cotton Lavender (Santolina chamaecyparissus 'Nana'), as mentioned in the spring gardening blog. The knot garden finally looks less like a teenager's bedroom, posters askew, clothes on the floor, hamster out of its cage, and more like the swish interior of one of Joan Collins' properties – I've never visited, but I'm sure they have a wonderful scent and are sufficiently polished. Just like Joan. 
Our next task is to replant the pockets created by the hedges. I think, and hope, that a unanimous decision will be made to keep Teucrium chamaedrys (Wall Germander). Its light pink to deep purple flowers attract bees and butterflies as successfully as a young Tom Jones used to attract womens' flying undergarments when he strutted his stuff on stage. The flowers provide nectar for honeybees and will also attract bumblebees. Germander is recommended specifically by the RHS as part of the RHS plants for pollinators' scheme, a method for enabling gardeners to easily identify plants that encourage bees and pollinators back into the garden.  
In Shakespeare's time Germander would have been used as hedging, alongside woody, scented herbs such as English lavender, cotton lavender, hyssop, thrift, marjoram, savory and thyme – all recommended by authors such as Thomas Hill (author of The Gardener's Labyrinth 1577, illustrations therein used as templates for our knots) and John Parkinson (English herbalist, botanist and apothecary to James I). Interestingly, box was never mentioned. As late as 1600, box was still described by the writer Richard Surfleet as 'of naughtie smell' and was said to kill bees and 'corrupteth the aire', being an ill choice for the knot garden. According to John Parkinson, dwarf box was only becoming available into the gardens as late as 1629. 
Back to the present day – we had magnificent, but very antisocial sunflowers growing in our long borders. Not their fault, rather an error made by the gardener who planted them. She lacked the wit to realise that they would all face the sun, which happens to be in the direction of the hedge and Chapel Street beyond, not in to the grounds of New Place. Their backs were subsequently permanently turned in disgust. As that gardener was the fool typing these words I feel more than free to ridicule her. Next time we will site them in the opposite border so that anyone within the boundaries of New Place can appreciate their loveliness.
The hottest day on record, 38.7 degree C on July 29, was confirmed at Cambridge University Botanical Garden. A small and unusual scene occurred on that day –
George, our garden apprentice, was watering the long borders when a couple – mother and daughter – approached him to ask about the plants in the borders. George, a verbose Greek-Cypriot, somehow twisted the conversation to the state of the world and then said: 'We should all just hug each other.' Not what he was after per se, just a general observation, but the mother, a bubbly Australian and undeterred by a garden group fast approaching, dived right for him. They embraced, George still maintaining hold of the hose, water spouting out from the middle of their cuddle. A great photo opportunity, though sadly before I could whip out my phone to take a picture the two had parted, both a little soggy.
Hall's Croft   
Due to various reasons, Hall's Croft has been without a senior gardener for most of the summer. The rest of the town gardening team have zipped back and forth to maintain it as best they can. Despite this handicap, Bertie, our manager for the town gardens, worked overtime to ensure that the recently installed Chef's Garden was abundantly stocked with vegetables and fruit; a large amount of which made the short journey across the lawn and dining patio to the cafe's kitchen staff. The parsnips were particularly successful.
Towards the end of summer an enthusiastic group of volunteers from the Co-Op emptied the second main border of plants, including the ever present, creepy-crawly ground elder. This bed will be left fallow over winter, and throughout next year, in an attempt to eradicate the elder and other pernicious weeds. The border opposite, which has been left fallow this year, will be planted early next spring.
In September a newly appointed Senior Gardener joined our team and is currently busy designing a planting scheme for the two empty main borders. The new design will allude to Jacobean times and the world of Shakespeare's daughter and son-in-law – Elizabeth Hall, and prominent physician, John Hall.