Shakespeare and the Stratford-upon-Avon Antiquarians
A research update from Alice Maltby-Kemp, Ph.D. candidate at University College, London
This project is a London Arts and Humanities Partnership-funded collaborative PhD Studentship between University College London and the Shakespeare Birthplace Trust (SBT) which aims to explore the records and connections between those who researched the life of Shakespeare and the local history of Stratford-upon-Avon between the 18th and 20th centuries. Many of the collections of these antiquarians have yet to be systematically researched and therefore have the potential to provide new insights for the study of Shakespeare and Stratford.
These volumes are shown in-situ in one of the SBT's 'stacks', or strongrooms, and demonstrate the range of material these collections contain, from local history to drawings. The volumes shown are largely the work of Captain James Saunders however they were all bound later by James Orchard Halliwell-Phillips.
The idea of the antiquarian is still heavily culturally influenced by the negative 19th-century stereotype of the bumbling amateur who collected fragments for the sake of collecting without synthesising those thoughts into a cohesive exploration of the past. This project feeds into the historiographical rehabilitation of these scholars whose approach to research formed the foundation of many of the academic disciplines we have today. The Stratford Antiquarians played a crucial part in the evolution of Shakespearian scholarship, as key documents for research into Shakespeare's life and times were discovered and preserved by their diligent and focused research practices.  

Their approach can be categorised very much as an interdisciplinary exploration of documentary and material evidence, literature, and art to express, understand and recreate the life of Shakespeare and the Stratford of the late 16th, early 17th centuries. Alongside this their recording of contemporary debates and events leave a fantastic record of the activities of researchers in their own time and historic events, such as the Stratford Jubilee of 1769, which helped promote Shakespeare as a cultural phenomenon.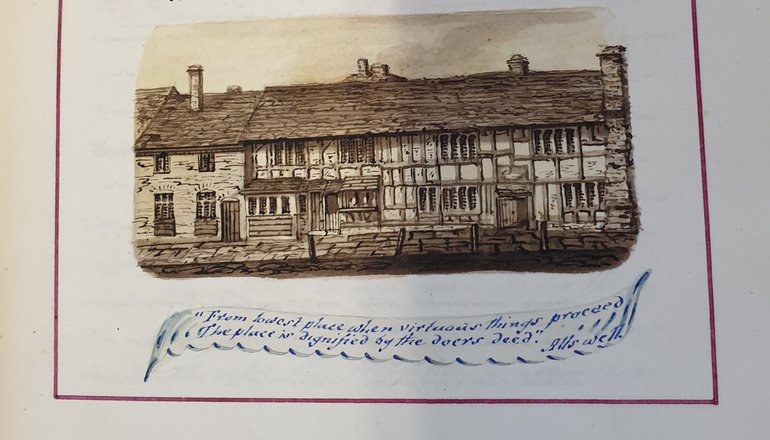 This watercolour of the Birthplace with a caption from 'All's Well that Ends Well' is an example of Captain James Saunders's beautiful illustrations which bring to life his collections and recreate Stratford as he saw it both in the early 19 th Century, and how he pictured it during Shakespeare's lifetime.
By looking at the work of these antiquarians we can reconstruct the scholarly discourses of the eras in which they lived and the relationships they had with each other. Although several of these antiquarians have been studied as individuals by looking at them as a whole, we can trace their influences and the cultural legacies they left behind which have in turn shaped the Shakespeare Story as it is today.
---
My thesis supervisors are Professor René Weis at UCL and Paul Edmondson at the SBT.
Alice Maltby-Kemp
Ph.D. candidate 
University College, London