Christmas at Shakespeare's Birthplace
A Tudor Christmas, candlelit tours, and craft workshops to get you in the festive mood.
04 Dec 2023 - 07 Jan 2024
10:00 - 16:00
General Interest
No booking required
Christmas is Coming to Shakespeare's Birthplace
Step into Christmas at Shakespeare's Birthplace with a host of festive activities for all the senses to get you in the mood for the season. From an intimate candlelit tour of Shakespeare's childhood home to hands-on crafting workshops we look forward to welcoming you to Stratford this festive season.
Included in Admission
Shakespeare's Birthplace at Christmas
Christmas during Shakespeare's lifetime was remarkably different from how it is celebrated today, so forget the tinsel and fairy lights and travel back in time to discover a traditional Tudor Christmas.

For 4 weeks, Shakespeare's Birthplace will be transformed with winter greenery and garlands of ivy and holly to give you a glimpse into how Christmas was celebrated in the late 16th century.
Shakespeare's Birthplace will be decorated to celebrate a Tudor-Christmas glory until Twelfth Night, the traditional end of Yuletide and is included in your admission.
Ticketed events
Christmas Craft Workshops
Looking for that special Christmas activity to kick start the festive season, then look no further than our hands-on Christmas Craft Workshops.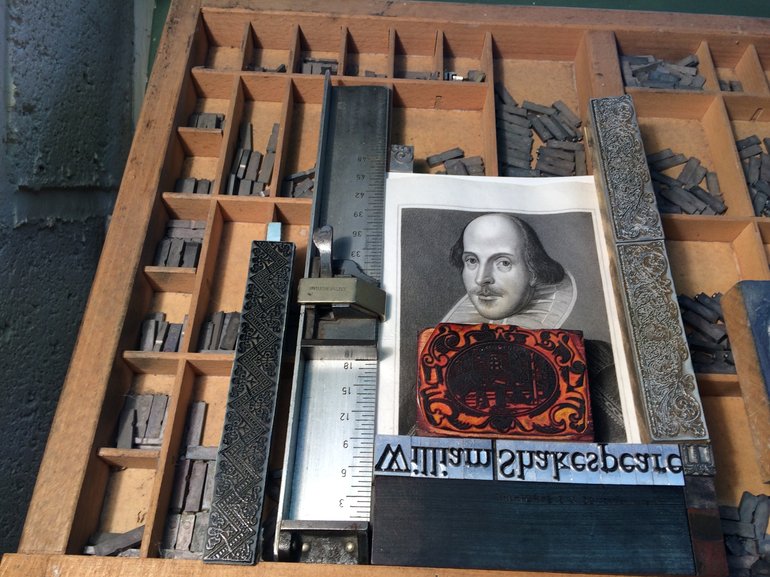 Letterpress Christmas Card Workshop with Louisa Hare
20 & 23 November, 11am-2pm | Tickets £50
Join Louisa Hare in the Marble Hall at Shakespeare's Birthplace and try your hand at creating your own bespoke set of Christmas cards. Using traditional methods Louisa will show you the art of lino print and letterpress printmaking, which you master to create your own unique, festive design to send to loved ones.

Due to the hands-on nature of the workshop, spaces are limited. Please book early to avoid disappointment. No tickets will be available on the day.

>> Find out more about our letterpress Christmas card workshops and book your tickets
Christmas Wreath Making Workshop with Renata Egan-Wyer
30 November and 7 December, 11am-2pm | Tickets: £55
Join expert florist, Renata Egan-Wyer in the Marble Hall at Shakespeare's Birthplace to create your own Christmas wreath.

Using locally grown, seasonal foliage such as, mistletoe, plus festive decorations, you will be shown how to create a show-stopping wreath to place upon your door.

Bring a friend, enjoy a glass of mulled wine, and enjoy making your own festive creation that will have the neighbours green with envy.

>> Find out more about our Christmas wreath making workshops and book your tickets
Candlelit Christmas
30 November and 1, 2, 7, 8, 9, 14, 15 & 16 December, 5pm – 7pm
| Tickets from: £9:75
Following the success of last year's Candlelit event our special, after dark tours of Shakespeare's Birthplace are back with a new and extended tour.

This year, you will be welcomed on arrival with a glass of mulled wine in our 'Famous Beyond Words' exhibition space where you can enjoy the sounds of traditional Tudor music whilst sipping your drink. Next you will take a LED candle and start your guided tour through Shakespeare's Childhood home by one of our costume guides and learn all about festive traditions of the Tudor and Jacobean period that William and his family may have celebrated.

>> Find out more about Candlelit Christmas and book your tickets
Please note: Tickets are limited for all events and pre-booking is essential, as no tickets will be available to purchase on the door.
Sign up to our newsletter to keep up to date with news and events from the Shakespeare Birthplace Trust.