It maybe feels a little nosy and intrusive reading the sweet nothings of people who were writing to each other around 150 years ago, it is unlikely that they would realise that one day their correspondence would be held in an archive available for anyone to read! Letters and diaries are my favourite archive documents because they are often people sharing thoughts and feelings. This is not always the case of course, it is often necessary to sift through more formal letters and those that merely make day-to-day arrangements but amongst it all there can be fascinating snapshots of their lives at the time. Whilst looking through these letters I have discovered there is so much love in our archive that there will have to be a second blog post dedicated to the more optimistic letters I have found. This post does contain, perhaps, a more painful side to love.
One problem with letters is it does mean that it is necessary to grapple with some pretty challenging handwriting! It is amazing how one word, misread, can completely change the meaning of a piece of writing. The first letter I have looked at looks particularly intimidating as the writer has started writing the letter, then written over it in an effort to save paper. It is mind boggling to look at and to consider that anyone would be expected to read it! Mercifully with this letter there is a handy transcript which means I don't have to decipher it myself.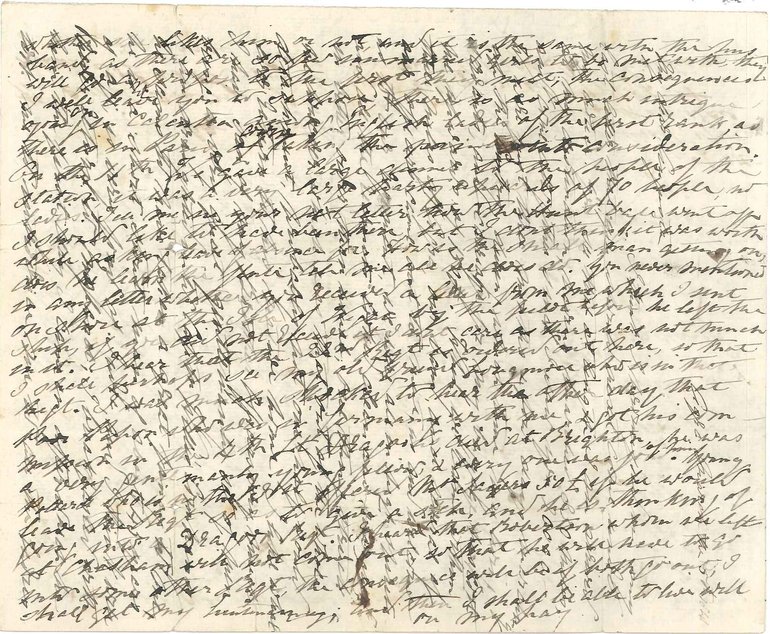 William Frederick Willes Atty wrote this letter whilst he was an ensign serving in the 31st Huntingdonshire Regiment of Foot in Agra, India. He wrote to his sister, Augusta, on March 5th 1841. The letter provides a lot of detail about military life and social life in his surroundings, he was only 18 years old at this point. 
"The weather is now getting very hot, hot winds that make your skin crack, we can't go out during the day." 

Life seems to be mainly filled with marching and parties, with occasionally more poignant lines:
"one thing struck me however which was that out of the whole detachment, probably not one half would ever return to his native home."
After tales of dinners and parties filled with beautiful women and drunkenness there is a change of tone when Atty asks his sister to 
...Give my love to that little dark eyed beauty Miss King tell her if possible I love her more than ever, and if she will only come here I will make her my own for life.

— DR974
This coupled with his P.S. comment "Make the best use of your time"  becomes particularly poignant when you read our catalogue entry for this letter which says that the writer died unmarried in India in 1846, aged 23.
The next two letters go together, the order in which they have been numbered makes you look at them in the wrong order chronologically but this is quite an interesting way of finding out their story. The first letter I read is from Marie Countess of Caithness of Barrogill Castle who is writing to Lady Philips, Sarah Georgina, the mother of Marie's husband's first wife who has recently passed away.  
My dear Caithness is ever good kind & affectionate, he has a most loving nature & a most grateful one. Often & often do we sit together, he & I, & talk over the Past but he always does so with a full heart & his eyes brimming over with tears, when he speaks of her he loved, & still loves & mourns so dearly, and also when he recalls to mind all that you & Sir George have done for him, & what a large debt of gratitude he owes you both – he ever finds in me a true, & most sincere sympathy, for whatever I may have appeared to you in bustle and frivolity of a London life, - you must not forget that I also have had my share of deep affliction, and that it has taught me how to feel for and with others – what I want to tell you then dear Lady is this, that I have not come here to usurp his affections or to wean them away from her memory, who was more to him than I can ever be, the companion of his early years and the mother of his dear children – but that I ever encourage him to dwell with tender and loving recollection on the Past

— DR 198/48
James Sinclair (16 August 1821 - 28 March 1881) is the subject of this letter and he was the 14th Earl of Caithness. He was a Scottish Liberal politician, a scientist and an inventor. Among his inventions were a steam carriage and in 1866 he won a prize at the French Exhibition in Paris for his invention of an artificial leg! He married his first wife, Louisa Georgiana (daughter of Sir George Richard Philips) in 1847 and they had one son and one daughter together. After her death in 1870 he married Marie de Mariategui in 1872, the writer of our letter. 
The next letter I read predated the first (written 7th June 1871), it was from James himself writing to Lady Philips, his Mother-in-Law from his first marriage.
Myself I feel I have only carried out the last wish of Her I valued most on Earth, in doing what I have done. & apart from her dear letter to me...one of her last requests was marry again, & soon. I would not hurt your feelings or Sir George's for the World, as I have had such great kindness from you, but if you wish that kindness to be felt now. Say no more – I have tried my best to be alone. I have tried moving about. I have striven not to forget but to do without love. why should I go to her grave to see what I cannot see, but in spirit as I did on Monday. I think over all that heavenly happiness that we had together here. No one knows what I feel, & have felt but I feel now as if I should almost go mad if I have not one beside me that I could love. This I have found & one I trust that when you know her you will say I have done right.

— DR 198/53
It is hard not to feel the emotions involved in this letter as James explains his need to marry again and fall in love after losing his first love.
This collection of letters does cover some of the more heartbreaking side of love, brace yourself for my next blog post which will cover letters between an engaged couple who, as the catalogue says, use a lot of pet names!
You can view documents like these and many more by visiting our Reading Room.