On the 11th July 1856, "The Players" visited the birthplace of the Bard and signed the Visitors' book:
My research has not revealed whether these actors were a group called "The Players" performing in the vicinity at this time, or if the word "Players" merely described their occupation.
Henry Marston
Richard Henry Marsh, professionally known as Henry Marston, was born in March 1804 at Highworth in Wiltshire, son of a physician by the name of Dr Marsh. Following his education at Winchester School, he was destined to enter the legal profession. After a short period in chambers, his predilection for the theatre overcame his legal ambitions and he began his stage career as an amateur actor at private theatres, making his debut at the Drury Lane Theatre in 1839.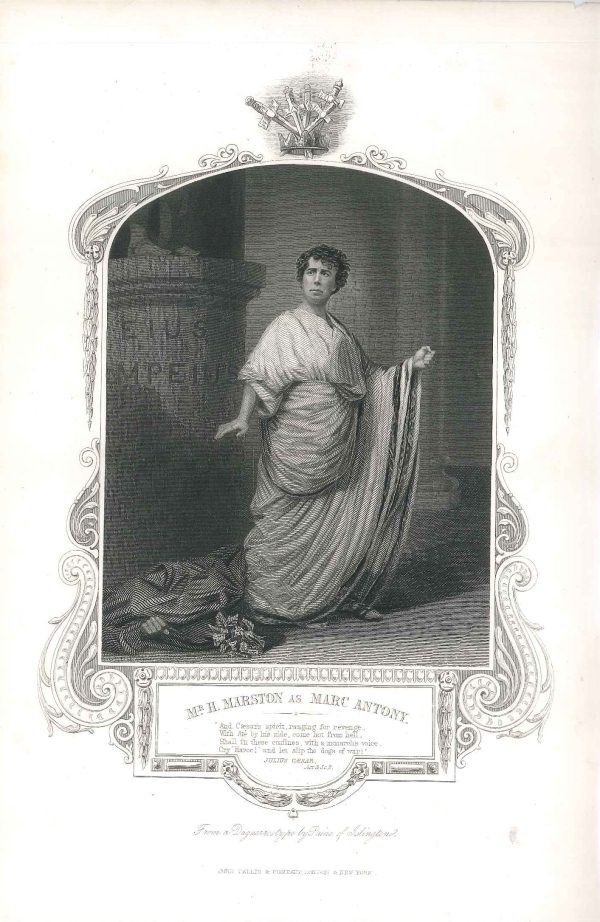 In the Census Returns, he variously describes his occupation as actor or comedian and often uses either his birth name or stage name. On the 11th of November, 1830, he married Georgina Noel (daughter of the artist John Baptiste Noel) at Bury St. Edmunds, Suffolk. Her name appears in the list of 'Players' too, and she was recognised as a talented actress. The differing birthplaces of their children and grandchildren point to a somewhat nomadic lifestyle typical of their profession. In the census of 1851 their household included Georgina's sister Mary Noel, a pianist. In 1871, their daughter Georgina (aged 15, an actress) and Cyrus Johnson (aged 23, an artist) were also in residence. By 1881, the household had expanded to include their grand-daughter and her actor husband William H. Baily, plus two great-grandchildren.
Henry Marsh died in March 1883 and was laid to rest in the family grave at Highgate Cemetery. Georgina, born in 1809, lived until 1887.
Henry Leigh Murray
Murray was born in Sloane Street, London on the 19 October 1820 with the surname Wilson.   Like Marston he, too, started his acting career as an amateur in a small theatre in the Strand, playing Buckingham in King Richard III.  Other Shakespearian roles followed and, in 1839, he made his professional debut at Kingston upon Hull in the role of Ludovico in Othello.  From 1840–1845 he made his base in Edinburgh, either at the Theatre Royal or the Adelphi. On occasion he visited other Scottish towns.
It was in Edinburgh in 1841 that he married Elizabeth Harriet Lee, daughter of Henry Lee and a member of the Edinburgh company. After the marriage she performed as Mrs Elizabeth Leigh Murray.
Murray's first appearance in London took place at the Princess's Theatre on 19 April 1845 where he played a variety of roles prior to leaving in 1846, with Macready, for the Surrey Theatre. There he played secondary Shakespearian characters, until on the recommendation of Charles Dickens he was chosen to play Alfred Heathfield in Albert Richard Smith's adaptation of The Battle of Life at the Lyceum Theatre. In Dublin in 1848 he played Romeo opposite Helen Faucit's Juliet.
Following two stints as stage-manager at the Olympic and the Strand, he returned to the stage at the Adelphi Theatre, London, in April 1853. In October of that year he played Captain Damer (Dragoon Guards) in The Camp at Chobham. The next month, he was commanded to perform at Windsor Castle. He left the Adelphi in September the following year for Sadler's Wells Theatre, where he played many Shakespearian roles.
In November 1856, a few months after his visit to Stratford with the Players, he reappeared at the Adelphi Theatre where both he and his wife had played a variety or roles during the 1850s. In the census of 1851, both his wife and his sister-in-law, Clara Lee, described themselves as comediennes. In August 1859, he played John Mildmay in Still Waters Run Deep, and in November of that year he was at the St. James's Theatre in the role of Harrington in James Kenney's London Pride, or Living for Appearances.
On 27 June 1865, when he was in failing health, a benefit was given at Drury Lane.
He died 17 January 1870 and was buried in Brompton cemetery.