On the 15th August 1852 John Baldwin Buckstone actor, playwright and comedian from the Haymarket Theatre in London, visited the Birthplace accompanied by other members of the acting profession.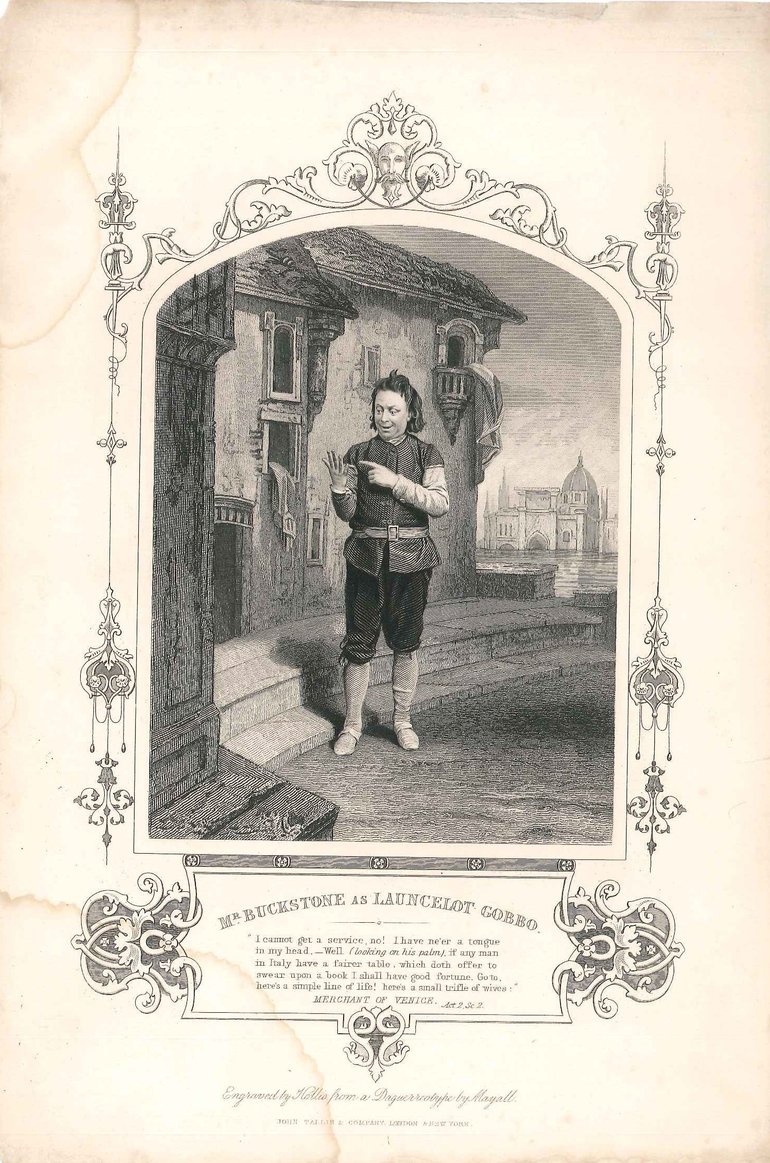 Buckstone was born in Hoxton in 1802 and educated at Walworth Grammar School. After a short period as an articled pupil in a solicitor's office, he turned to acting and toured with a travelling troupe for three years. His first London appearance was at the Surrey Theatre in 1823. From 1827-1833 he was engaged as the leading comedian at the Adelphi Theatre and first appeared at the Haymarket in 1833. Following an unsuccessful visit to America in 1840 he returned to the Adelphi in London to write and star in his own plays. Under his management from 1853–1877, the Haymarket became the premier comedy theatre of the period. In 1873 he introduced the idea of matinee performances starting at 2pm.
According to the census of 1851, Buckstone was resident at Richmond Lodge in Putney, giving his age as 45 and his occupation as comedian. Other occupants at the same accommodation were:

Fanny Fitzwilliam | head | age 45 | a theatrical born in Dover, Kent
Edward (Francis) Fitzwilliam | son | age 24 | musical composer born in Deal, Kent,
Visitors included
Mary A Copeland | age 29 | a gentlewoman born in Kent
Maria Copeland | age 18 | niece of above
Ellen Chaplin | age 23 | a theatrical born in Bath, Somerset
Fanny Fitzwilliam, wife of Edward Fitzwilliam, 1788-1852, was the daughter of Robert Copeland (the manager of the Dover theatrical circuit). Her first appearance on stage was as one of the children in Stranger, and by the time she reached 15 years of age she had begun her career as the leading actress at the Dover Theatre. Her first London appearance was at the Haymarket in 1817 as Lucy in the Review and Cicely in the Beehive. After a very successful career at home and abroad she returned to the Haymarket, where she was appearing on stage until a few days prior to her death on 11th September 1854. She was buried at Kensal Green Cemetery.
Buckstone had a close association with Fanny Fitzwilliam and was engaged to marry her (a widow, at that point), but unfortunately she died a month before the planned event. The company at the Haymarket disbanded in 1877 and he died at home in 1879 at the age of 77 years.
Sightings of his ghost have been seen, by stagehands, standing in the wings of the Haymarket, especially during comedy performances. On 25 August 2009 the Daily Telegraph reported that the actor Patrick Stewart had seen the ghost during a performance of Waiting for Godot.
On 28 December 1853, Fanny's son Edward Francis Fitzwilliam married Ellen Morgan Chaplin, at Holy Trinity, Brompton.  A prolific composer, he had at Easter that year become musical director at the Haymarket Theatre, a post he held until his death in 1857 at the early age of thirty-three. He, too, was buried in Kensal Green.
His widow Ellen was the eldest daughter of Thomas Acton Chaplin. She made her first appearance at the Adelphi Theatre in 1841 in an aquatic spectacle, and was for twenty-two years a prominent member of the Haymarket company under the management of Mr J B Buckstone. Leaving England for Australia in 1877, she performed in Melbourne then proceeded to Auckland, New Zealand where she died in 1880 at the age of 58.
William Robert Copeland (1799-1867), brother of Fanny, was born in Deal, Kent. He married Sarah Elizabeth Jerrold Lambe, a widow, at Manchester Cathedral in 1835. They had four children prior to their marriage, each one having a different birthplace: a sign of their itinerant lifestyle prior to his becoming manager of the Theatre Royal and proprietor of the Royal Ampitheatre in Liverpool in 1843. In the 1841 census, he describes himself as a comedian living in St. Leonard's, Hythe with his family, whereas in the census of 1851 he gave his occupation as a theatre manager. Sarah died in 1863 and William in 1867. Both are buried in the Toxteth Park cemetery, Liverpool.
As for John Povey from America, a common surname in the United States, research has not revealed any theatrical connections.