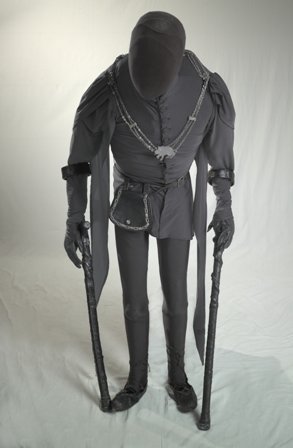 "that bottled spider… that poisonous bunchback'd toad"
Richard III Act I, Scene iii
Richard III is surely one of Shakespeare's greatest villains. Even his appearance is repulsive and he is called "spider" and "toad" by the other characters. Access and Interpretation Coordinator, Anna Griffiths, is looking at part of the iconic costume worn by Antony Sher in Bill Alexander's 1984 production of Richard III.
Shakespeare's Villains is a series of blogs by Finding Shakespeare and our education team, so don't forget to check out Blogging Shakespeare's post on Richard III. Plus you can see photos showing how this villain has been portrayed in different RSC productions over the years in our Flickr album.
The Antony Sher costume will be on display to the public as part of the Shakespeare Birthplace Trust and the Royal Shakespeare Company's exhibition A History of the RSC in 50 Objects. It will be on display at Hall's Croft in Stratford-upon-Avon in Autumn 2011.