This post was written by Elizabeth Sharrett who is studying for her PhD in History at the University of Birmingham's Shakespeare Institute.
---
"Then hadst thou had an excellent head of hair… it hangs like flax on a distaff; and I hope to see a housewife take thee between her legs and spin it off."
Sir Toby Belch, 1.3.91&96-98 Twelfth Night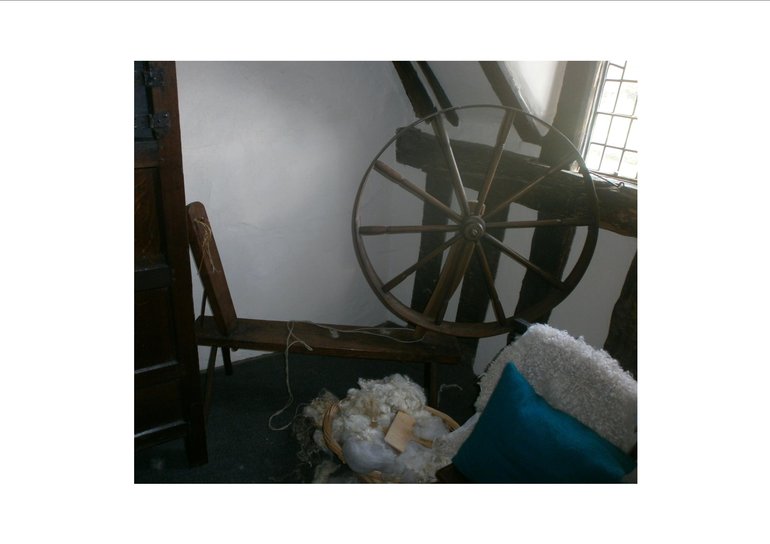 My next few blogs will feature a series of objects related to women's household duties, and will explore how these items were used to complete everyday chores.

The first object is a 'great wheel' or spinning wheel, made in Wales sometime in the late seventeenth century, now at Palmer's Farm. The wheel has a diameter of 93 cm, and its spokes and rims are made of ash. It sits on an adzed bed, or grooved oak plank, which is supported with four stakes. The spindle board is a narrow plank, 60 cm long and 13.5 cm wide, and is set into and through the end of the bed and pegged below. A woman would have sat alongside the bed on a stool while holding the distaff and spinning the wheel, as can be observed in the woodcut found in the Ballad of the patient Grisell.
These objects were integral to the running of the household, and may have been brought to marriages by brides as part of their dowries, along with other important household items, including bed linens and tapestries.   Good examples of such household objects can be seen in my previous post on a 16th or 17th century linen sheet from the Hathaway family collection and Victoria Jackson's post on a 16th century Dornix textile fragment, both from the collections of the Shakespeare Birthplace Trust.Most inventories, like Thomas Tayler's, similar to the one analyzed by Stephanie Appleton in her post on the inventory of Joyce Hobday, often included at least one "spynyng wheele".[1] On the 'great wheel' at Palmer's Farm there is evidence of thumbnail gouging at the end of the bed, and the wheel is worn and wormed in places. Additionally, somewhere over the years, the spindle-board tongue was replaced. These wear patterns perhaps indicate years of use, as the wheel has been passed to generations of brides.
Though there may be thrifty folk among us today who make their own clothes, they nevertheless most likely purchase their supplies at a store, relatively cheaply and easily. However, in households like Shakespeare's, in addition to weaving their own fabric, most yarn, made of wool, hemp, and flax, would have been spun at home. Gervase Markham's book of advice, The English Huswife, states that "Our English housewife, after her knowledge of preserving and feeding her family, must learn also how, out of her own endeavours, she ought to clothe them outwardly and inwardly".[2] He describes, "After your wool is thus mixed…you shall then spin it up on great wool wheels, according to the order of good housewifery". Despite this guidance included in a published book, spinning remained part of a skill set taught primarily by women.The ballad describes Grisell as "the faire and comely Mayden/ as she did sit a spinning", and like Markham's description, draws on the ideal association between spinning and feminine domestic virtue. Sir Toby's bawdy pun, then, which likens the housewife to a prostitute, corrupts the ideal, and adds to the debauchery of the scene.
---
[1] Jeanne Jones, Stratford-upon-Avon Inventories, 1538 – 1699, Stratford-upon-Avon: The Dugdale Society, 2002.
[2] Gervase Markham, "Chapter V", The English Huswife. London: 1623.