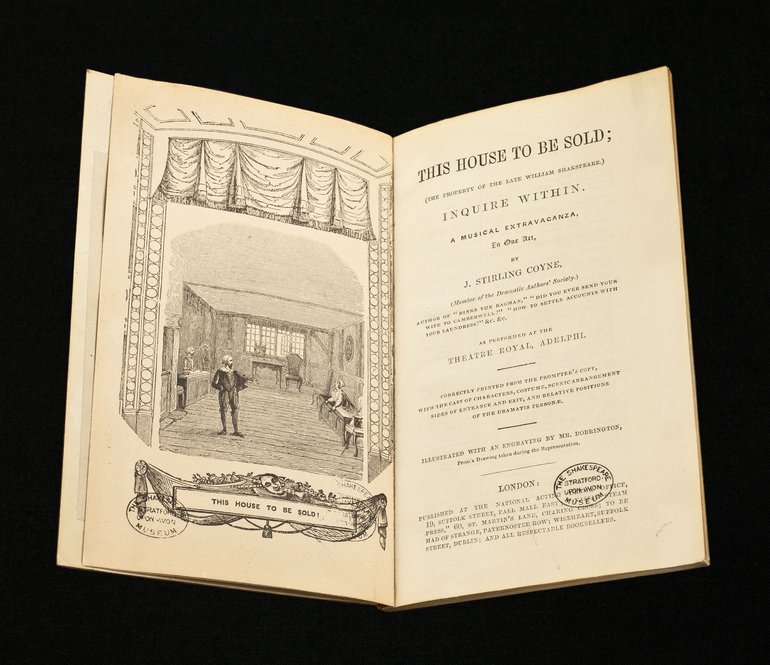 On 9 September 1847, a one new act play described as a 'musical extravaganza' was performed for the first time. It was This House to be Sold and its author had been inspired by the imminent sale by public auction of Shakespeare's Birthplace, due to take place on 16 September.
That author was Joseph Stirling Coyne (1803-1868), an Irish playwright best known in the Victorian era for his highly successful one act comedies. These were written for English theatre companies using a form of drama popular in France at the time, the farce. They involved physical comedy and bad puns. Coyne's work usually had a comical title, such as How to Sttle Accounts with your Laundress, also written in 1847. The popularity of this form of drama can be seen in the number of performances of This House to be Sold at the Adelphi Theatre: 87 shows between 9 September 1847 and 25 January 1848.
This House to be Sold may have been written and performed to raise funds for the purchase of Shakespeare's Birthplace (there was a campaign to save the house for the nation) and contains features typical of Coyne's work and of theatrical burlesque in the late 19th century. The cast of characters are mainly working-class and the action is punctuated by popular music hall acts who sing songs that the audience would have recognised. The humour of these music hall 'turns', as they were known, was very much of its time, relying on racial stereotypes unacceptable in the 21st century.
Most of the humour in the play derives from the fact that the main character, Chatterton Chopkins, has bought the house because he thinks it will make him respectable. He does not really know much about Shakespeare. He is surprised to find that the house is in a poor state of repair, is not impressed with the state of the famous birthroom and does not even recognise Shakespeare himself when the playwright appears to him in a dream. That the source of some of the humour comes from Chopkins not knowing much about Shakespeare presupposes that the audience, mainly working-class, did. This suggests Shakespeare was part of the fabric of popular culture at this time.
Beneath the belly laughs there is some clever humour. Anyone acquainted with tourism, Shakespearian and otherwise, will note the nods to the management of heritage which still ring true today. There will surely be many visitors and guides who recognise Mrs Jarrett's frequent admonitions to her visitor that he should not touch the furnishings as they are rather fragile.
Coyne also comments on the way people like Chopkins wanted to own a piece of the Bard. When Shakespeare appears on stage he jokes that he is not actually there in his own person but is 'Mr Knight's' Shakespeare. This is a reference to the famous Pictorial Edition of Shakespeare's works produced by Charles Knight, an edition that was available to purchase cheaply in 56 monthly parts between 1838 and 1843. Each play was accompanied by lavish illustrations. Just as some people tried to sell 'authentic' souvenirs, Coyne is showing how, in the late 1800s, even the text of the plays could be commandeered for commercial purposes and made into an affordable souvenir.
The only people who do not make any money out of Shakespeare in Coyne's play are the actors. Some of the characters that are brought to life by him discuss the widely accepted view that Shakespeare on stage was not all that profitable. Henry Irving, that great Shakespearian actor, had to earn his living from his memorable turns in melodramas and in Coyne's burlesques, as well as in Shakespeare plays. Since they cannot earn a decent enough living working in the legitimate theatre, the characters feel they would be better off being at Astleys, acting in more commercial plays. Such as the one they are currently starring in!
It is now just a few days until the Trust celebrates the 170th Anniversary of the purchase of the Birthplace via the public auction of 1847. Join us for a free event re-enacting the auction, or come and see our informal exhibition Saving Shakespeare's Birthplace which opens 16 September 2017. Find out more about Saving Shakespeare's Birthplace.
Head to our online shop to explore our new range of souvenirs, and purchase images relating to the auctioning of the Birthplace via our print store.
Written by volunteer Rebekah Owens
---
Sources:
'The Adelphi Theatre Calendar: all inclusive index of authors and performers', https://www.umass.edu/AdelphiTheatreCalendar/msti.htm;

'The Adelphi Theatre Calendar: Daily Calendar for 1847-1848' https://www.umass.edu/AdelphiTheatreCalendar/m47d.htm#Label003
John Russell Stephens, 'Coyne, Joseph Stirling (1803–1868)', Oxford Dictionary of National Biography, Oxford University Press, 2004 [http://www.oxforddnb.com/view/article/6544, accessed 15 Aug 2017]
Andrew Murphy. 2008. Shakespeare for the People: Working-Class Readers, 1800-1900. Cambridge: CUP. [74.2/MUR]
Richard W. Schoch. 2002. Not Shakespeare: Bardolatry and Burlesque in the Nineteenth Century. Cambridge: CUP. [67.2] pp. 78-83
Alan R. Young. 2007. Punch and Shakespeare in the Victorian Era. Oxford: Peter Lang. [62/YOU] p. 85