As we all know, the appeal of Shakespeare is global and this was clearly demonstrated in May this year when I had the unusual privilege of accompanying a key item from our collections, the Bidford Chair, to a new temporary exhibition in Hong Kong; The Extraordinary in the Ordinary: Chairs for Viewing the World through Time.
The story associated with this chair is that it is reputed to be the chair Shakespeare sat in whilst competing in a drinking competition at the old Falcon Inn, Bidford-on-Avon.
The Hong Kong Heritage Museum exhibition explores the position that this everyday utilitarian object has held in people's lives throughout the ages and our chair fits the bill perfectly.
Preparations for the loan started back in 2013 when the curator, Naomi Yy Szeto, visited the Birthplace Trust and requested to borrow the chair. This was approved by our Trustees and the loan process began culminating in my waiting at Heathrow Airport late in May as our chair was loaded on to a flight along with objects from the British Museum and Science Museum.
With the time difference, we arrived on Wednesday into Hong Kong. There then followed a nine hour wait for the items to clear customs and cargo handling before a trip to the Hong Kong Heritage Museum to securely store the items overnight. We finally checked into our hotel on Thursday morning at 4am!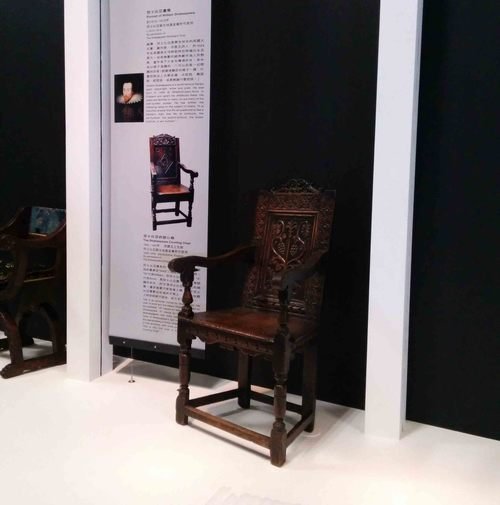 Later that day I returned to the museum to check and then install our chair in the exhibition. The museum staff were very helpful and excited to have the chair in this important anniversary year, particularly as this is the first time it has been out on loan since we acquired it in 1865. It now sits in pride of place in this exciting exhibition and demonstrates the impact that a single object can have in an exhibition.
We have been delighted to share our collections digitally with our audiences around the world through this blog, and now we are sharing this item physically with audiences in Hong Kong.