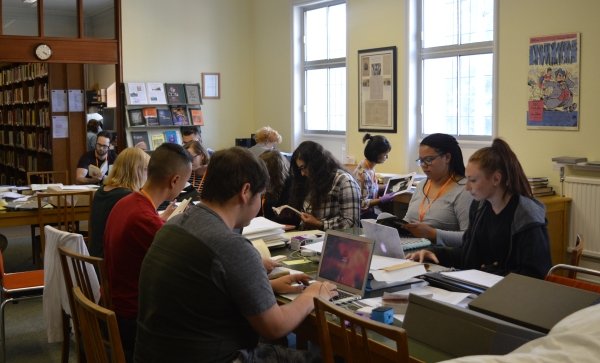 Why are we launching these guides?
We want to provide a resource to researchers who may be planning a visit, as well as those who live too far away to visit in person. These guides build on our paper leaflets, but provide further links and resources that may be helpful to those navigating our collections and online catalogue.
We have also listened to comments from visitors to talks and other events and feedback from the ARA National Survey of Visitors to UK archives. We've had questions about how our collection is catalogued, for example, what the difference between a DR and an ER document is. It occurred to us that it might be worth taking each aspect of our very diverse collection and providing more information and presenting it in a more visually appealing way.
What do they contain?
Each guide will explain what we have and how to find it, with clear examples of the types of document/item to be found within it and short asides with advice on how to 'FIND OUT MORE!' 'USEFUL FACTS' and our pick of 'STAR ITEMS'. Where there are online resources that may help, we will direct you to these. We will also include links to blogs and online exhibitions to bring the subject to life. We will provide information about paper resources (card catalogues, files and indexes) that you can look at if you visit or ask a member of staff to check if you are far away. Information will also be given about handy surrogates such as microfilm versions for printing and any special requirements for consulting particularly fragile items.
Some guides will provide an overview of a large range of material so that you can see how everything fits together (e.g. Overview of the Local Collection, Pre-Twentieth Century Performance History). Others will look in detail at a particular collection (e.g. Local photographs)
Which subjects will they cover?
Overview of Local Collection
Overview of Library Collection
RSC Archive
Pre-Twentieth Century Performance History
More specific guides
Local photographs
Local newspapers
Estate collections
Reviews
Production records
Local maps
Family history
House history
Local businesses
Tourism
Census
Poor Law
Transport
Biography
Thematic guides
e.g. WW1, specific international collections, guides based on themed events we have held on subjects such as 'Women in the collection', 'Food and drink', 'Gardening' or new areas of research undertaken by staff, volunteers, interns or readers using our collections.
What next?
We would welcome suggestions from our readers, past, present and future for future guides. Is there an area of the collection you would like to know more about? Perhaps you have done research with our collection and have always thought we could add more to our paper leaflets based on your findings?
Please email us at [email protected] if you have any thoughts on this.