People often ask what we get up to at the farm when it's closed over winter; four whole months to enjoy endless cups of coffee, leisurely make plans for the year ahead, and occasionally pet a pig. Well, I won't deny that coffee does feature quite highly, but in reality the closed period is one of the busiest times of the year for the Mary Arden Farm team.
Take a look at some of the work that is going on behind the scenes!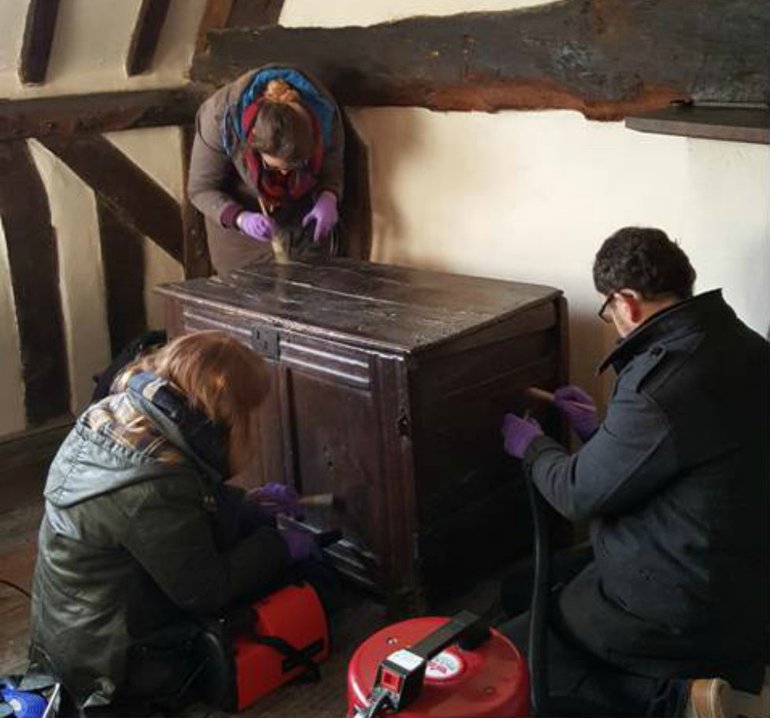 The Deep Clean
During the winter, the farmhouses and outbuildings get their annual deep clean. I work with a wonderful team of conservation volunteers to clean each building from top to bottom and give some tender, loving care to the museum collection objects. As you can imagine, things at the farm get pretty dirty over the course of the year, so it is very satisfying to get into all of the nooks and crannies to remove dust and cobwebs.
Different conservation cleaning methods are used on the collection objects depending on what material they are made from and what condition they are in. Most recently the team have been sweeping dust off wooden furniture using hogs hair and pony hair brushes, and gently removing rust and grime from iron firedogs with fine grade wire wool. Once an object has been cleaned, it is covered with a Tyvek sheet to prevent it getting dusty again until it is time to re-display the house in March. The varied work helps to make up for the very cold conditions!
The Property Services team have also been busy carrying out general repairs on the houses. The central chimney of Palmer's Farmhouse has been repaired and repainted; a flagstone in the fireplace of Palmer's kitchen has been replaced, as the old one had deteriorated and become very uneven; and plaster repairs have been carried out in Palmer's and Mary Arden's.
There is a lot of work still to do, but so far the deep clean is progressing well and we are on target to be ready for reopening on 10th March. Do come along and see firsthand what we have been up to over the winter!