Ben and David Crystal, son and father, have been friends of the Shakespeare Birthplace Trust and The Shakespeare Bookshop for more than twenty years.
In that time, since the publication of their first book together, Shakespeare's Words, in 2002, they have written several books on Shakespeare and Shakespeare's language and delivered some brilliantly engaging book events and workshops for the Trust. Their last collaboration came earlier this year when they compiled the wonderful resource booklet Will's Word Warriors Volume II for Shakespeare Week.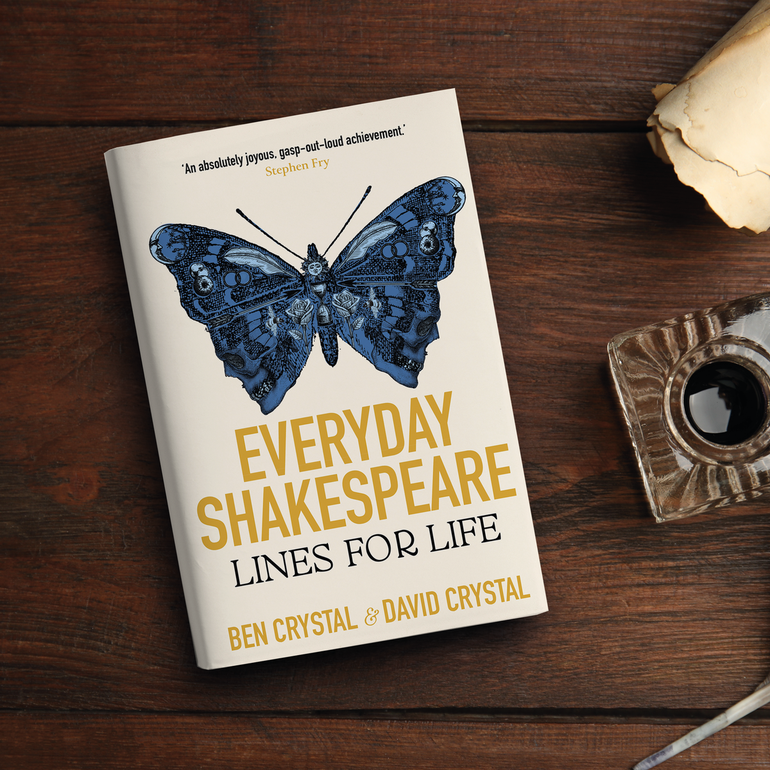 Their latest, Everyday Shakespeare: Lines for Life, is a thoughtful, elegantly presented book of quotations, in which Ben and David have gathered lines from the lesser-known corners of Shakespeare's plays and poems that capture our everyday thoughts and emotions.
While these 400-year-old phrases may not always be familiar, they have an immediate, easy and surprising resonance with modern life. Alongside a quote for every day of the year, Ben and David have written an engaging commentary drawing attention to points of daily life, literary, linguistic, and theatrical interest, as well as notes for context for anyone who wants to know who originally said the words, in which play, and why.
We invited Ben and David to tell us more about the book and its creation:
David: I suppose the question we most often get asked is about our relationship: father and son co-writing is a pretty rare situation.
Ben: Yes, we're lucky it works so well. Most of the time.
David: "Better three hours too soon than a minute too late", Benjamin.
Ben: Better a minute early than three hours too soon, Father.
David: Ah yes, we have rather different views on how that Merry Wives quote reflects life. I reckon the main benefit is actually that, though - the generation gap.
Ben: Agreed, that's always worked in our favour. It's wild to have that age between us and yet such a shared passion for a collection of writings too. And coming from such different fields, linguistics and theatre.
David: This makes me think of the age-old question of 'relevance'. It's easy enough to say 'Shakespeare is relevant to everyone', but 'relevance' means different things to different people, and especially when age is taken into account. I think that was one of the things I most noticed when we were making our selection. We both went through the canon identifying extracts that we thought had something to say to us today. Then we compared notes before making our final selection. We homed in on the same extracts a lot of the time, but sometimes you, with your theatre background, would see something different from what I saw, with my linguistic background.
Ben: And we complement each other in our writing styles. We've both got a good eye for a typo, but you love to research the history of a word, and spend hours crafting our indexes. I couldn't bear it!
David: You spend ages endlessly tweaking sentences, as Oscar Wilde did with his commas. And you also love the macro, the overall look and feel of the book, which I don't sense so easily.
Ben: Like going to a show, when does the experience of a book begin? I love working out the aesthetic of the front cover and how it ties to the way we're writing; and the flow of the book, how the reader's experience might go over its arc, and how that journey might vary from month to month, week to week, and day to day.
David: It was neat how we shared the writing duties this time. While I was exploring word histories and parallels, you were finding ways to open these lines for life up to the everyday - some of which made me laugh and some (and here my age is really showing) pop-culture allusions you had to explain. Like thrash metal.
Ben: Ha just like our difference in understanding of 'goth' when we wrote Shakespeare's Words.
David: The age-gap again!
Ben: Mad that this is our fifth book together!
David: This one has very much been a passion project, for both of us. Digging into the neglected corners of the canon, ignoring the most famous and well-known lines, and homing in on the innocuous, casual or epic one-liners.
Ben: It's such a rich canon of work - and a fun way to rediscover what we thought we already knew so well.
David: The main discovery for me was the remarkable number of everyday situations in which I now found myself using one of these quotes, quite unselfconsciously. I'm used to hearing people talk about how Shakespeare is 'for all time' and 'speaks to us all', but is so different. I'm truly amazed how much Shakespeare had to say - away from the bits with daggers - that relates to my own day-to-day life.
Ben: Totally, same. I love the quotes we've chosen (of course I do) because we both agreed they might resonate and flutter someone's strings. That the only demographic necessary for access here is 'human'. And while they're the writings of a white man living at the turn of the seventeenth century, the author fades into the background because the ideas are so full, such natural thoughts, simple and yet wide-reaching.
David: Indeed, I'm especially interested to hear how readers experience the book, where they've found themselves using one or other of these quotes. I'm sure there will be some surprising situations. So, dear readers, please head to Everyday-Shakespeare.com and let us know which quotes you've found yourselves drawn to, or have reflected on -
Ben: - or you especially resonate with. This is a book of Shakespeare, but it's also a book of day-to-day interaction and reflection and resonance -
David: Lines for Life, in fact…
Ben Crystal is an actor, author, and creative producer and explorer of original practices in Shakespeare rehearsal and production. He is an Associate Artist at the Shakespeare North Playhouse, curator of theShakespeareEnsemble.com and a patron of Shakespeare Week. Ben is the author of Shakespeare on Toast - Getting a Taste for the Bard and Arden's Springboard Shakespeare series. He has collaborated with his father on several books: Shakespeare's Words, The Shakespeare Miscellany, and The Oxford Illustrated Shakespeare Dictionary.
David Crystal, OBE, is a renowned writer, editor, lecturer, and broadcaster on language. He has written or edited over 100 books on the history and development of English. His work on Shakespeare includes Pronouncing Shakespeare and Think on My Words: Exploring Shakespeare's Languages.
Everyday Shakespeare: Lines for Life is published by John Murray, priced £16.99. Copies of the book are available to buy in The Shakespeare Bookshop and our online shop and include a bookplate signed by the authors.