One of the UK's leading creative talents, Lee Lapthorne has been selected as the new Artist-in-Residence at the Shakespeare Birthplace Trust, the independent charity which cares for the five Shakespeare heritage sites in Stratford-upon-Avon, and promotes the enjoyment and understanding of his works, life and times.  
A prominent artist, fashion and textile designer, Lee Lapthorne will be creating two bespoke pieces of furniture inspired by the historic interiors of the Shakespeare houses and the Trust's world-class museum and archive collection. They will go on display at Anne Hathaway's Cottage and Hall's Croft in Stratford-upon-Avon from 11 March – 15 September 2019.  
The Bard's Rest
The Bard's Rest is a re-interpretation of a Greaves & Thomas pop-up sofa designed with bespoke textiles inspired by the Shakespeare Birthplace Trust's museum and archive collection including intricate embroidery from a 16th century sweet purse, and the original rosette from David Garrick's Shakespeare Jubilee of 1769*.  The Bard's Rest will be displayed in Hall's Croft - the elegant Jacobean home of Shakespeare's daughter Susanna, and her physician husband John Hall.    

The Love Settle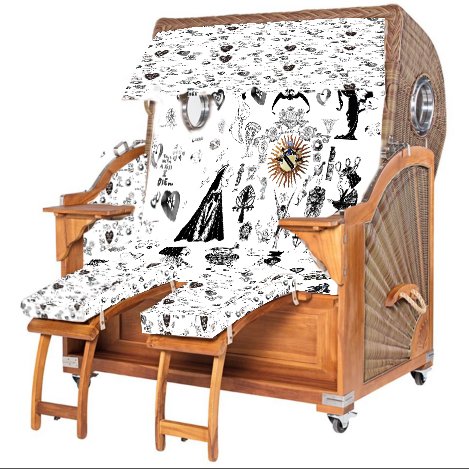 The Love Settle is an outdoor garden lounger bearing digital, screen-printed and embroidered weather-proof fabric inspired by love and romance in Shakespeare's world. The Mygind Design Scandinavia two-seater garden lounger features a modern-interpretation of Shakespeare's quotes, characters from his plays and items from the collection, including the famous Second Best Bed. Visitors can see the Love Settle in the beautiful historic gardens of Anne Hathaway's Cottage in Stratford-upon-Avon.  

Lee Lapthorne's work is unique in creating a multi-disciplinary approach to fabric manipulation with hand printing, painting, embroidery, embellishment, devoré, discharge, fringing, digital printing, and sequining. He said, "It was a real privilege to have access to the Trust's extensive collections, a rich and vast treasure trove of over 1 million Shakespeare-related items. I was especially drawn to the colours in the 250 year-old Garrick Jubilee rosette, which was commissioned for the very first festival in Shakespeare's honour, and widely celebrated in his hometown of Stratford every year since.  
"I've had great fun delving deep into the archives to gather visual evidence which has led me to create a unique colour palette. I set about detailing these colours with their associated textures, using many different paint textiles and mediums to create a modern-interpretation of the Garrick Jubilee cloth. Working with specialist British weavers in Sudbury over a three month period has resulted in a sophisticated material that embodies the essence of Shakespeare's continuing influence on the world."  
Lee adds, "It has been a thrill to take a little known but iconic piece from the past and bring it to a new generation of Shakespeare admirers – I hope people come away inspired and enthused!"  
Lee Lapthorne's residency is supported by Arts Council England as part of the charity's creative and outreach programme to share Shakespeare's works, life and times with communities.  
Delia Garratt, director of cultural engagement at the Shakespeare Birthplace Trust, said, "Lee has been a great support in the progressive development of our creative programming, sharing Shakespeare's stories and his creative genius with new audiences who may not otherwise connect with the playwright. The pieces are truly beautiful works of art, presenting Shakespeare as relevant, contemporary and accessible to people of all ages."  
After-Hours Event: an evening with Lee Lapthorne
On 9th March 2019, Lee will be at Hall's Croft in Stratford-upon-Avon to exclusively unveil the commissioned pieces as part of the Trust's After Hours programme, followed by a Q&A discussing new ways of reinventing old pieces of furniture and textiles to create something unique - an inspiring event for the creatively curious. For more information, see www.shakespeare.org.uk/afterhours.
Ends.  
Notes to Editors:  
*The Shakespeare Jubilee of 1769
From 6-8 September 1769, prominent actor and theatre manager, David Garrick staged the Shakespeare Jubilee in Stratford-upon-Avon. Planned to mark the bicentenary of Shakespeare's birth, he was 5 years and a few months late, as Shakespeare was born in April 1564. The weekend's programme opened with the firing of cannons and ringing of church bells. A temporary pavilion was erected on the Bancroft Gardens for performances. On the second day, heavy rain interrupted proceedings when the River Avon burst its banks and much of the rest of the weekend's activity was cancelled including the Shakespeare Pageant, which was later staged at the Drury Lane Theatre in London, to great success and acclaim.

The Shakespeare Jubilee is considered to be the event that established Shakespeare as a playwright and poet of international and enduring significance, and started the Shakespeare tourism industry in the town. 2019 marks the 250th anniversary of this event and will be a source of inspiration for the creative programme of the Shakespeare Birthplace Trust across the year. 

About Lee Lapthorne
Curator, Mentor & Art Director, are just a few titles held by one of the country's leading Fashion and Event Management experts, Lee Lapthorne. Lapthorne's success stems from his unprecedented drive and unique approach to his art. Effortlessly shifting energy from working in partnership with brands and clients creating a backdrop and a concept from which to showcase their work, to his pivotal, role leading the team at On|Off, on the search for the next big thing. This is all really second nature to Lapthorne. Through the years Lee Lapthorne has collaborated with talents such as Rankin, Groove Armada, and most recently, Haris Nukem, as well as producing over 300 shows globally for the likes of Peter Pilotto, J.W. Anderson, Roksanda Ilincic, Gareth Pugh and Gucci, among many more. Lee is also a Visiting Lecturer at The Royal College of Art and Central St. Martins. www.leelapthorne.com